Join us in April for an Engineers Ireland MEETA Asset Management Webinar
About the Webinar
In this Webinar Stuart Walker, Reliability Engineer and Director at Reliability Solutions Ltd discusses using Motion Amplification Camera technology to assist in the root cause analysis of many different types of industrial vibration problems. He will demonstrate, using video of some real-world case studies, how vibration is visualised to assist in diagnosis in assets include rotating equipment, process piping and structural problems across a wide range of industries.
Date: Tuesday, 26 April 2022
Time: 19:00 – 20:00 – Dublin, Ireland
Location: Online (Zoom)
Free Registration
About the presenter
Stuart Walker has worked in the Condition Monitoring and Reliability sector for the last 25 years. He started his career working for Dupont as a Mechanical and Production Technician after completing a four-year apprenticeship. It was here he was introduced to Condition Based Maintenance and set up a successful program at one of DuPont's UK sites. He utilized technologies such as Vibration Analysis, Oil Analysis and IR Thermography, moving the site from a time based maintenance strategy to a predictive and proactive one. Stuart then worked for a Reliability Consultant company for a number of years implementing and running a number of other successful CBM programs across the UK.
In 1999 he set up Reliability Maintenance Solutions Ltd with his colleague Dean Whittle. Together they have successfully grown the company over the last 22 years. RMS provides reliability consultancy, training, services and products to a number of blue chip companies across the UK, Europe and Middle East. Stuart has worked in many industry sectors including Oil & Gas, Petrochemical, Power and Paper. He is currently working on projects introducing and implementing the new Motion Amplification Technology within RMS and across a wide range of Industries at home and abroad.
About MEETA Asset Management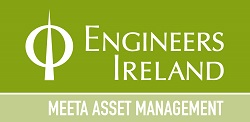 The MEETA Asset Management society is a special interest group for maintenance, reliability and asset management practitioners, providing CPD and networking events for engineers. The society was created over 35 years ago, as an amalgamation of the National Maintenance Association (NMA) and the Energy Management Association, as well as incorporating the technology of environment protection. The Society was initially called MEETA – for Maintenance, Energy and Environment Technology Association. In the 1990s, MEETA engaged with the then Institution of Engineers of Ireland and became a Society. This relationship has prospered and now MEETA is an established Engineers Ireland Society.
About Motion Amplification Technology
Pump Base Problem Visualisation – Finding the root cause
A great example showing the power of MA as a visualization tool. The pump shows poor base security. Vibration levels were 8mm/sec RMS.
Why is Visualisation So Important?
Imagine what you could do by visualising faults in machinery, infrastructure, and human performance. You can look at numbers and analysis from tools like accelerometers, strain gauges and modelling software and still not be able to visualise what the problem is. Being able to see what is happening can change your perspective completely along with allowing more targeted and cost effective approach to fault analysis. There are tools to magnify an image or to offer point measurements on a machine or piece of infrastructure, but no real way to see what is happening live and over the whole asset until now. RDI offers the first non-invasive, simple, and cost effective way to visualise what is happening beyond what you can see with your eye.
We look forward to seeing you online!
Last updated: 7th December 2023